"HACCP Check Cloud" convinced me from the first moment. Suddenly these tasks are fun because everything has become much more transparent.
Michael Brechbühl
Elisabeth House Senior Citizens' Centre Weibern
Many thanks to Mr. Brechbühl for the following graphic. It serves as a support for the employees of the Seniorenzentrum Elisabeth Haus Weibern for the application of our CHECK HACCP system. 
"Rieber CHECK is the perfect temperature, hygiene and transport
documentation with a quick view of the essentials."
Ramin Homayouni
Overall management of catering
Due to the structural expansion of our central kitchen, we have dealt with the topic of digitalization in the canteen kitchen and came across the CHECK HACCP system. From the receipt of goods to the serving of food, temperatures can be filed quickly and easily digitally - without the annoying "paperwork". It makes our daily work easier and saves time that we can use for other important things.  
Sarah Stonebush
Nickut Catering GmbH
"The administration of CHECK is simple. Creating users or adding new measuring points can be done within a few minutes and is immediately recorded in the CHECK CLOUD and thus immediately applicable. The dashboard informs me immediately about deviations and is therefore my 24-hour watchdog in the house.
Our cleaning company is also connected to the CHECK CLOUD and can therefore document all cleanings. Damage and soiling can be captured and recorded immediately via the photo function."
Samuel Staiger
Operations manager speisewerk
"In case of discrepancies, I get immediate information via the dashboard and have more overview and transparency in a single system instead of in individual folders.
The mobile digital core temperature measurement and the Auto CHECK of the cold stores saves me a whole 30 minutes every day with better and more accurate documentation results at the same time, so I have more time for important tasks."
Marcel Stone
Chef speisewerk
"For me, CHECK HACCP saves time first and foremost, thanks to the fast recording and complete control of the HACCP standards that I have to document every day. I have every piece of information in the CHECK CLOUD and
no more wasted paper and binders. Because in our production we pay strict attention to making our processes environmentally friendly, through CHECK we can now also do this in the documentation.
All in all, I have a helpful workload reduction with easy operation and control. I can give my customers information on questions and problems much faster and more straightforward."
Alexander Feil
Chef de cuisine Lunch & More speisewerk
"CHECK offers me a unique, digital control and logging system. Liability cases can be greatly limited because I have multi-level temperature documentation until the thermoport is handed over at the destination facility. From production, outgoing goods through delivery."
Ines Emmert
Operations management Lunch & More speisewerk
"CHECK is a quick way to record temperatures and also hygiene on a day-to-day basis without the hassle of paper documentation and all digitally and even via app on my smartphone."
Mario Scherer
Chef de partie diner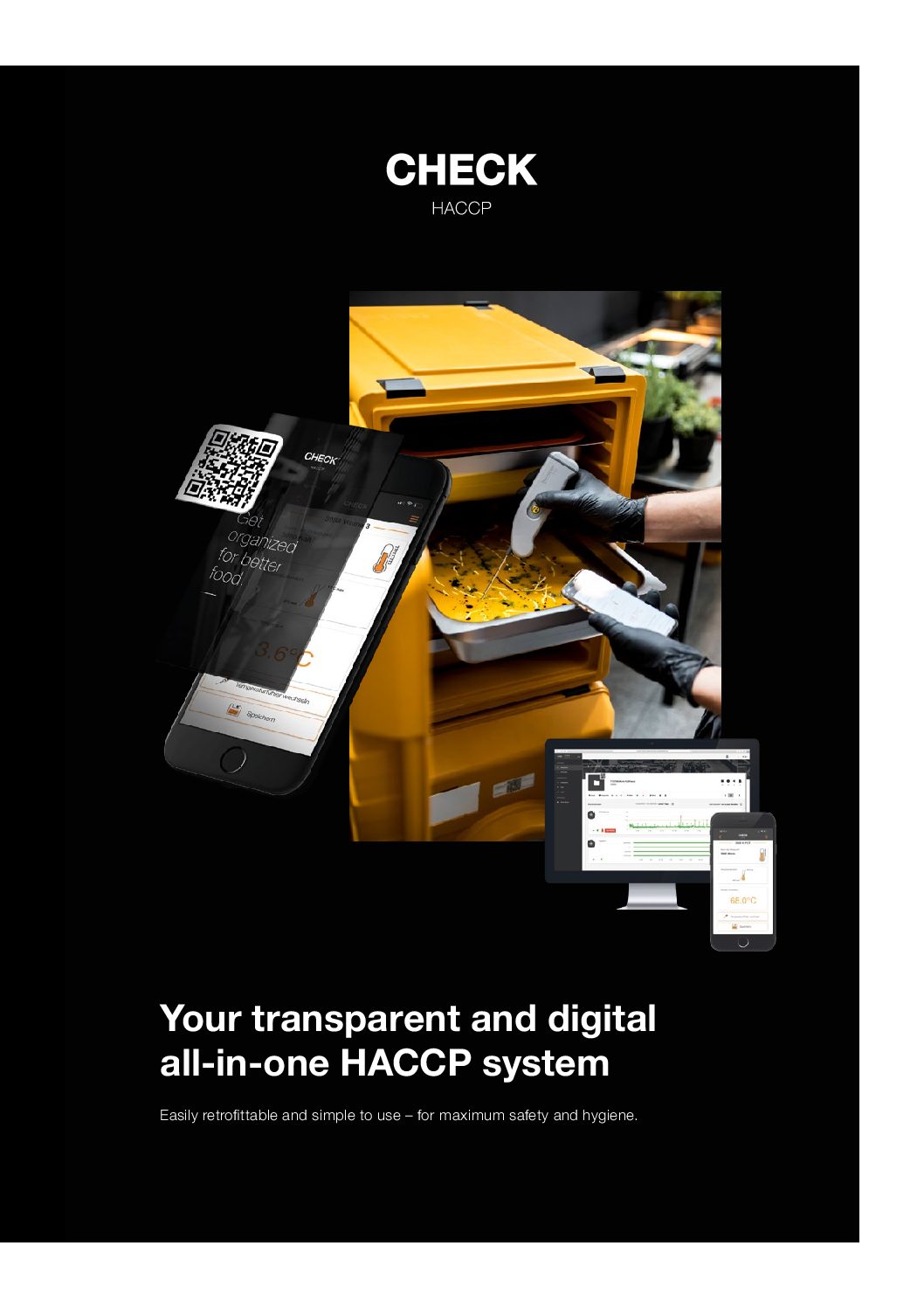 The advantages at a glance
System - software
Digital, transparent HACCP lists with real-time data

24/7 alarm function

Automatic documentation and archiving without wasting paper

Simple user, rights management and configuration

Retrofittable into existing infrastructure

User-friendly and intuitive application

Reduction of personnel, cost and time expenditure

Uncomplicated info management tool with individually createable checklists

Possible connection to existing merchandise management systems

Patented Digitizing System: DE 10 2013 011 987 B4 2019.06.27 & U.S. Pat. No. 9,996,056
Metrology - hardware
Core temperature sensor
Robust, hygienic, HACCP and EN 13485 compliant

Very fast response time (3 sec.)

Protection class IP66/67

Battery life 1000 h continuous operation

Accuracy +/-0.4 °C to +199 °C

Measuring range -49.9 °C to +299 °C
Room temperature sensor
Can be integrated & retrofitted in stationary as well as mobile devices (manufacturer-independent)

Can also be used offline with integrated data logger (ring memory for 16 T measurements)

Temperature resistant -40 °C to +85 °C (plastic housing) & internal sensor -40 °C to +125 °C

Dishwasher safe 

Food safe

IP 65

Sustainable with replaceable battery

Radio frequency 868 MHz for higher range & outside the busy range (2.4 GHz)

Sensor & gateway communication intelligent and self-organized 

With practical real values through the sleeve on the temperature sensor 
QR code
Dishwasher safe

Simple, retrofittable food-safe sticker

Temperature resistant -40 °C to +180 °C
Data protection
Hosting and operation of the platform DSGVO-compliant in the EU
Send us an enquiry - we look forward to working together to design the best solution for your business.
HACCP lists no longer 4 years in the confusing paper-folder chaos, but transparent, digitally retrievable at any time. All measuring points and documentation as well as alarms in one web interface.
Organize your operation no matter where you are and always stay informed about your process-relevant data.
Efficient energy management - is your refrigerator constantly 3 °C too cold?
Ask CHECK HACCP and uncover your savings potential.