CHECK HACCP system components
Mobile CHECK
Manual temperature measurement via Bluetooth-capable core temperature sensor and CHECK app. Simple hygiene and service management with flexible, individually compilable checklists and additional photo and text function via the CHECK app.
Auto CHECK
Automatic room temperature detection by means of sensors, stationary and in mobile devices.
QR code
Unique CHECK Point identification by means of food-certified sticker.
CHECK app
Intuitively guided operation and data collection of core temperature measurement and checklists via smartphone.
CHECK Cockpit
Central web-based data retrieval, configuration and management (temperature HACCP report, hygiene report, quality index, user & rights management, export, system configuration, definition of task intervals).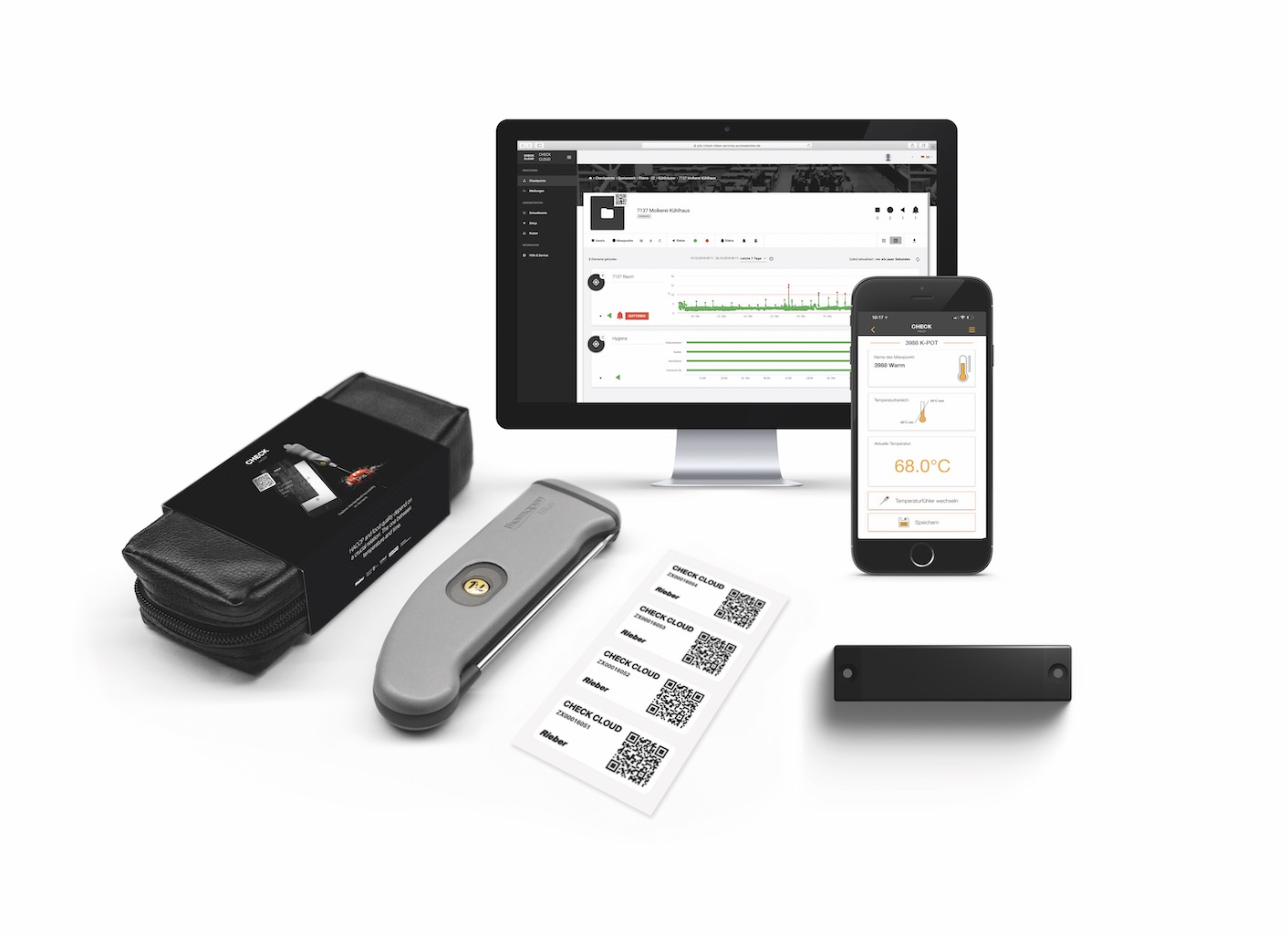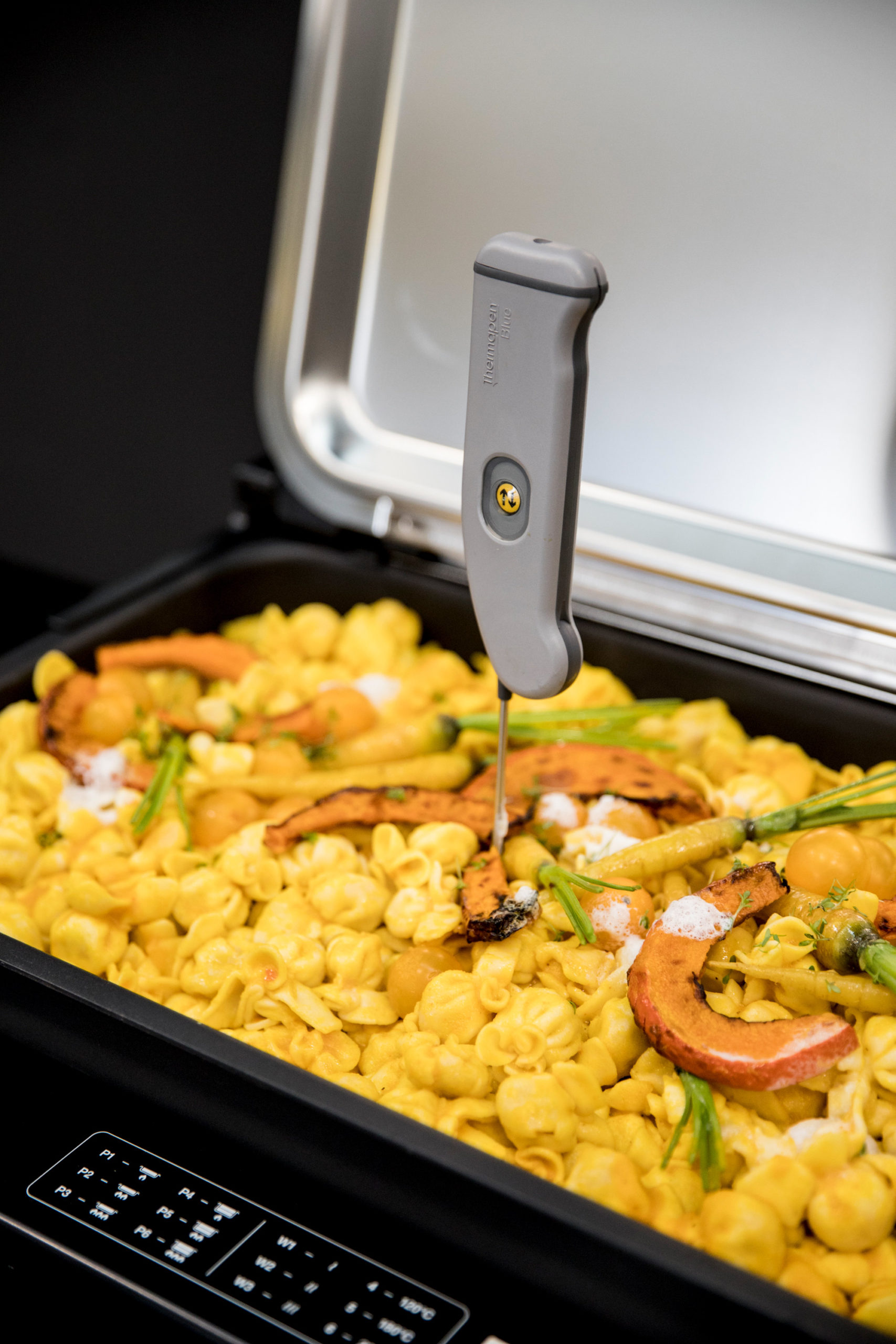 Mobile CHECK
For the identification of the CHECK Point, the attached QR code is scanned with the smartphone CHECK APP. This determines whether it is a matter of recording temperature, hygiene data or checklists. The user is guided by the system in a user-friendly manner at each checkpoint, which is to be documented.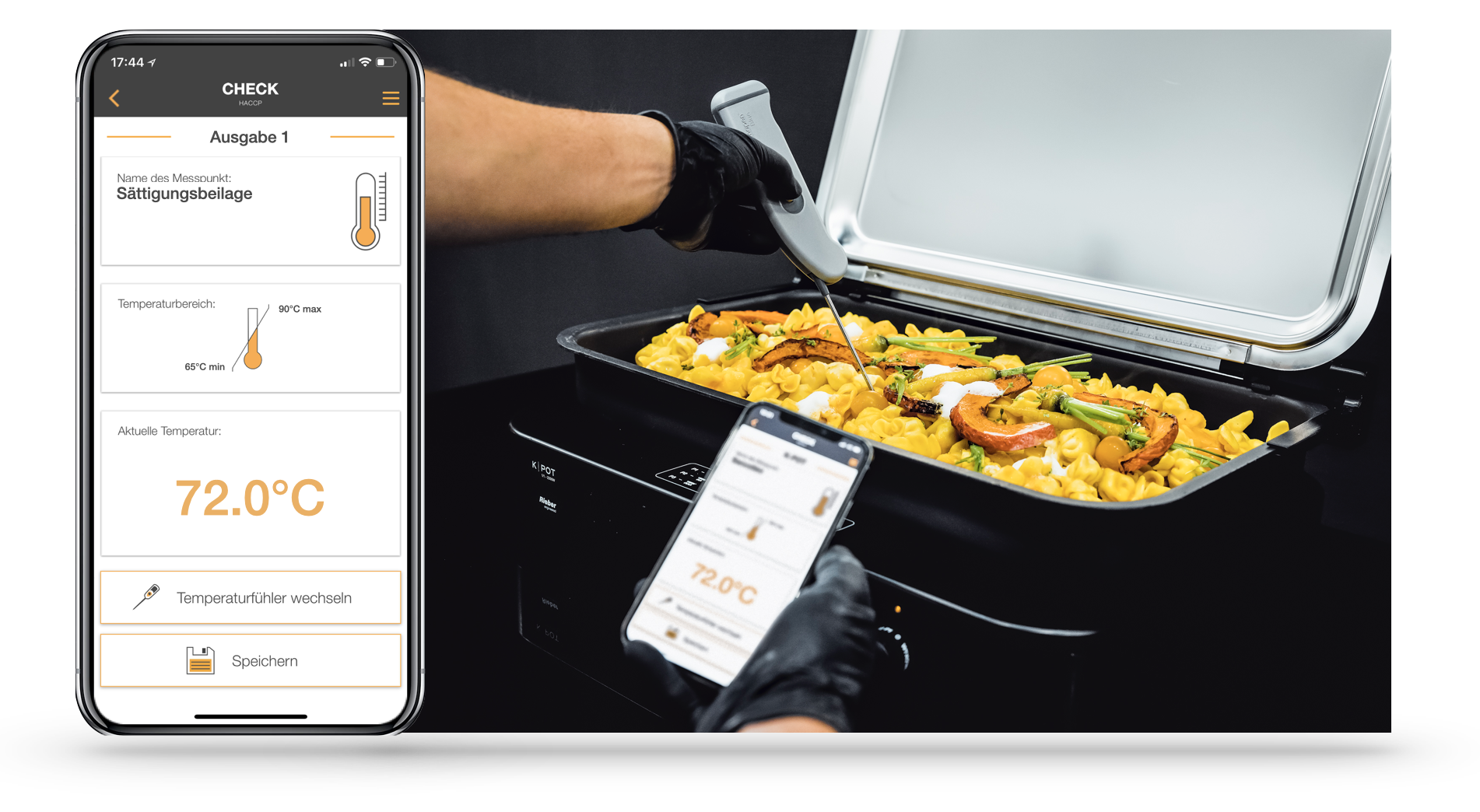 Core temperature measurement according to the SMS principle
The temperature data is recorded by the Bluetooth-capable core temperature sensor and immediately forwarded to the CHECK app. This measurement is confirmed via the app and thus sent to the CHECK CLOUD and documented in a HACCP-compliant manner. In the event of deviations from the prescribed limit value, the user is automatically provided with the correct corrective and action measures. (Patented process, patent no.: DE 10 2013 011 987 B4 2019.06.27)

Hygiene management
If it concerns hygiene data, the cleaning status of the CHECK Point can be documented via standardised selection and individual text functions and, in addition, a photo can be stored for clear proof of cleaning or attached via external links, tutorial videos as well as cleaning instructions (PDF) or direct links for re-ordering via desired online shops.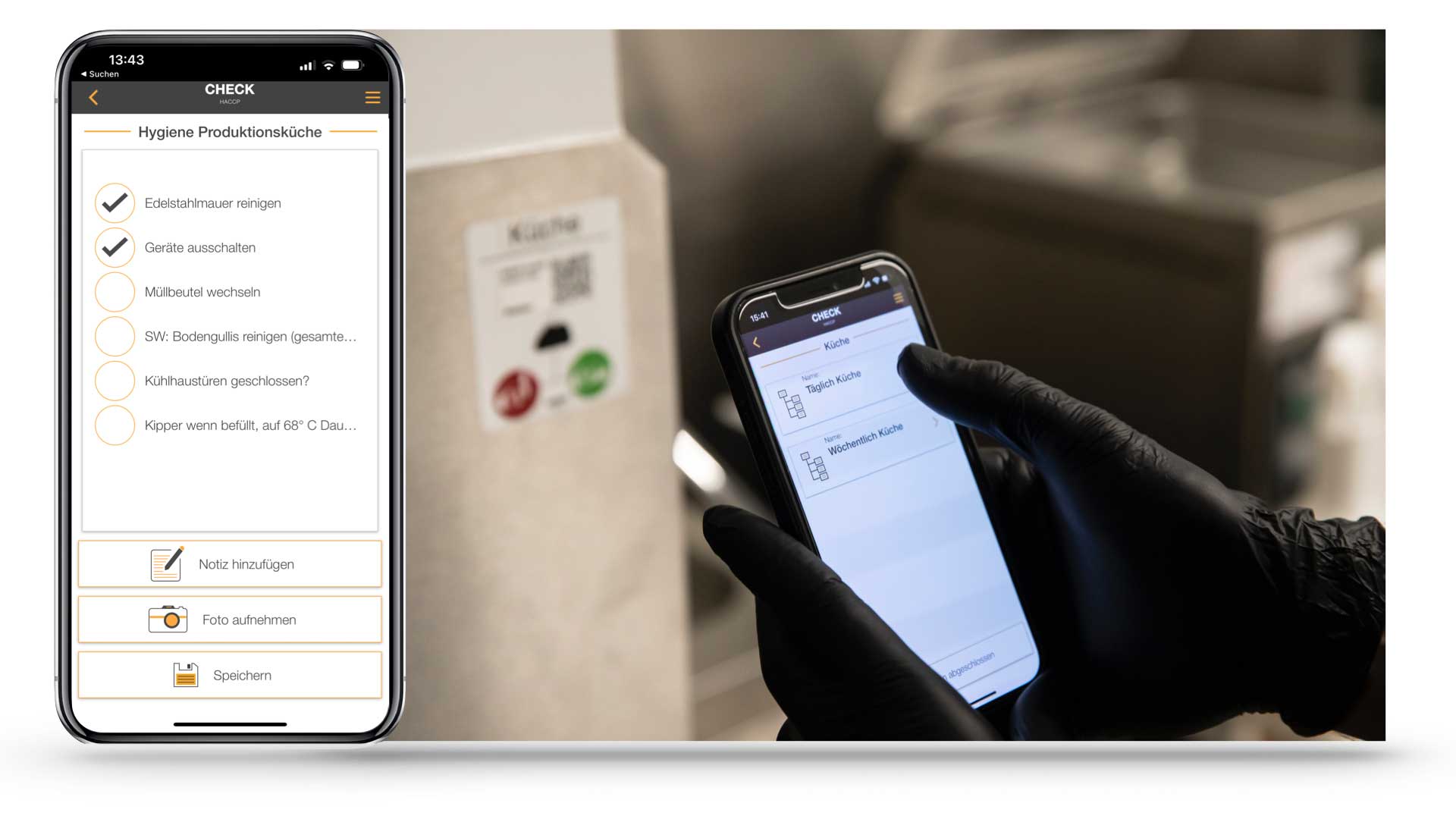 Service Management
In addition to HACCP hygiene documentation, the individual text and photo function enables uncomplicated information management for a wide range of service cases across several organizational levels. Thus, for example, information can be provided directly about defective equipment, contamination or repeat orders. In addition, the flexible checklists can be individually created to meet your operational requirements, giving you an automated organisational tool for a wide range of tasks.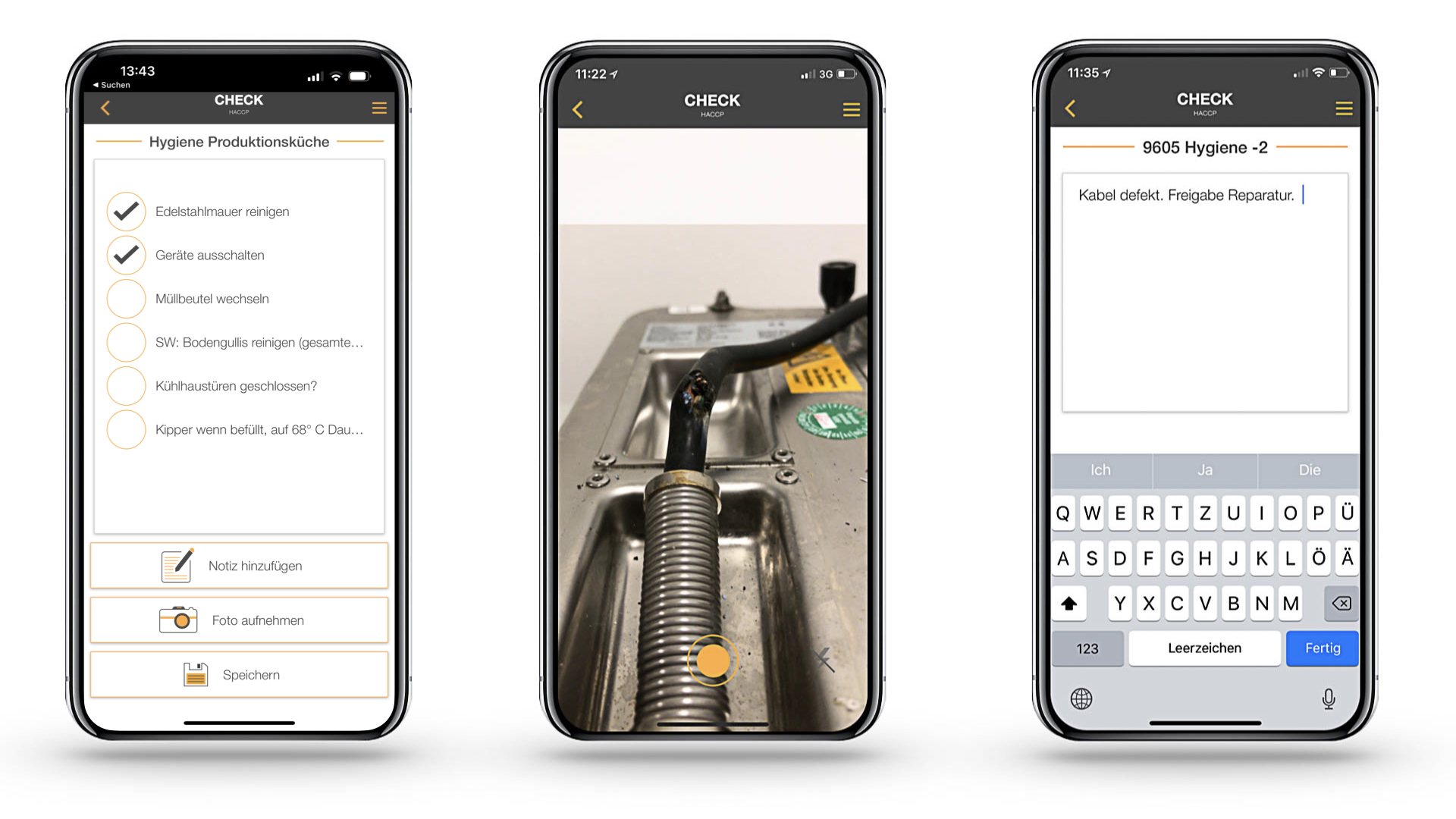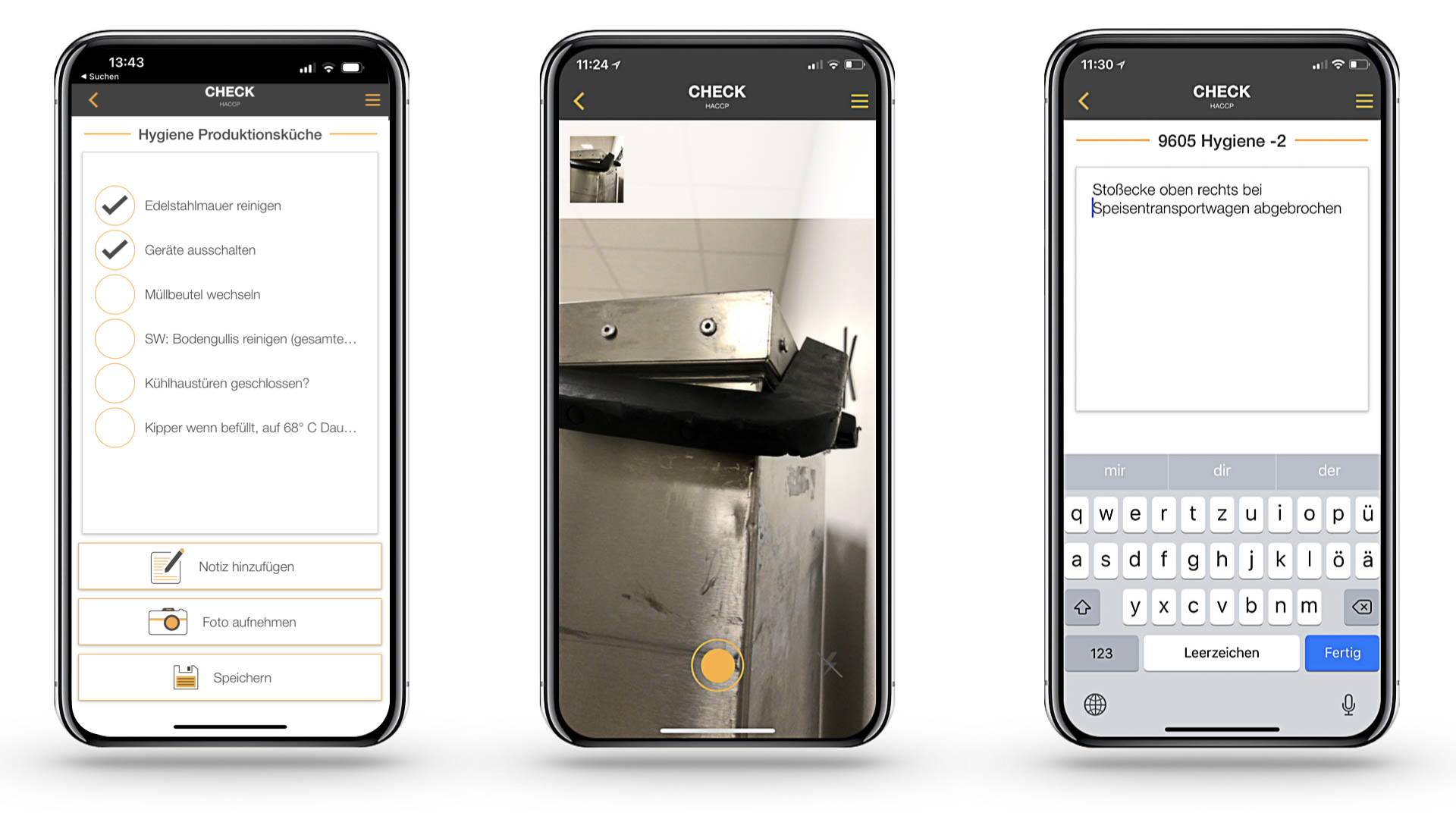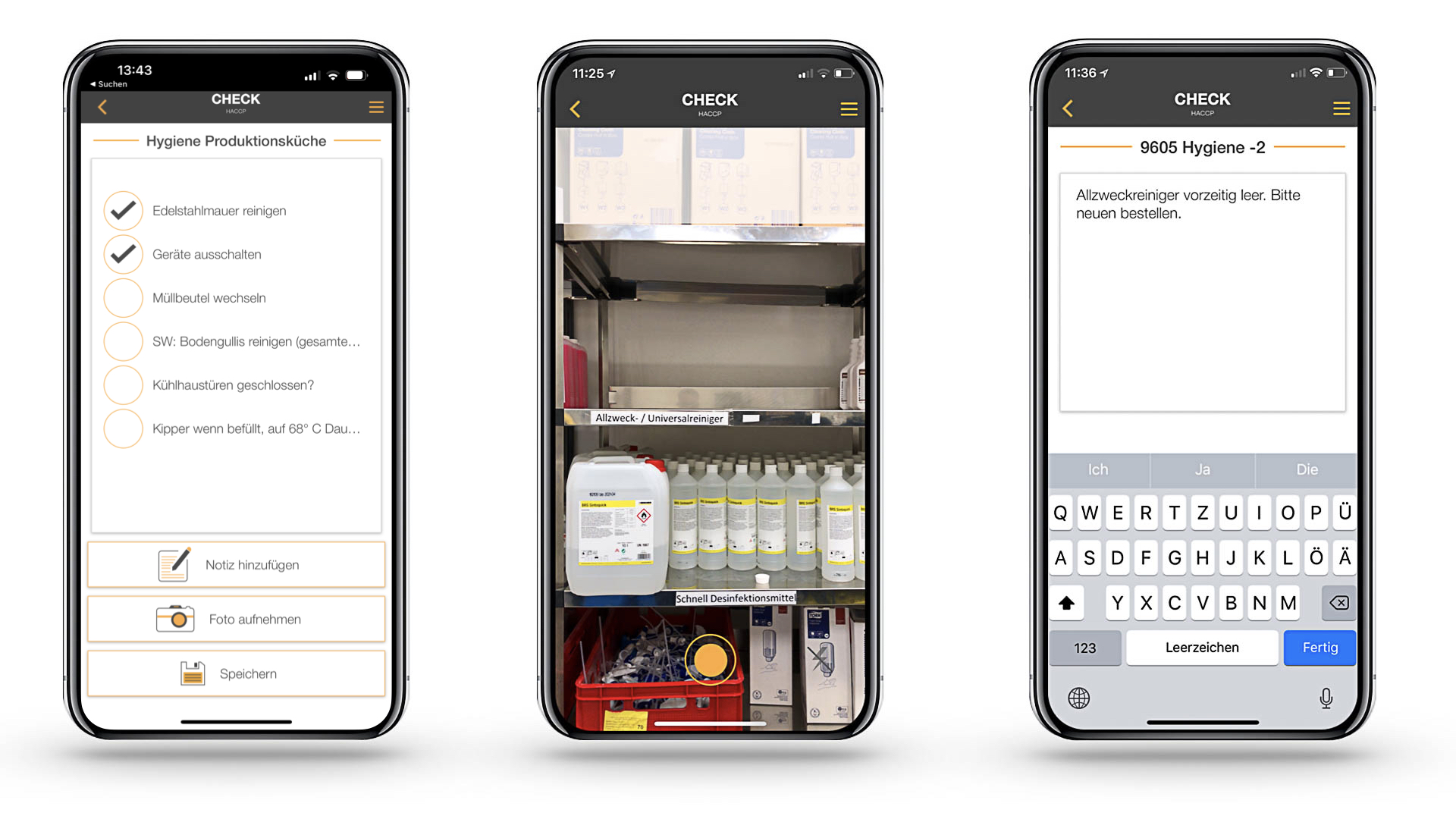 Flexible checklists with file attachments & URL's
Digitize your checklists with up to 20 queryable TODO points. Individual notes and photos can also be attached to the flexible checklist. In addition, for reliable compliance, the alert function can remind the user of his outstanding TODOs via smartphone. Individual information of any kind such as PDF, JPG, Ward files etc. and also URL links can be attached behind each QR code. This allows the person in charge to retrieve helpful info at each checkpoint. For organized and simple data and info sharing, available at the exact checkpoint where the info is needed, on the dashboard or in the app. Comparable to an integrated "Dropbox system".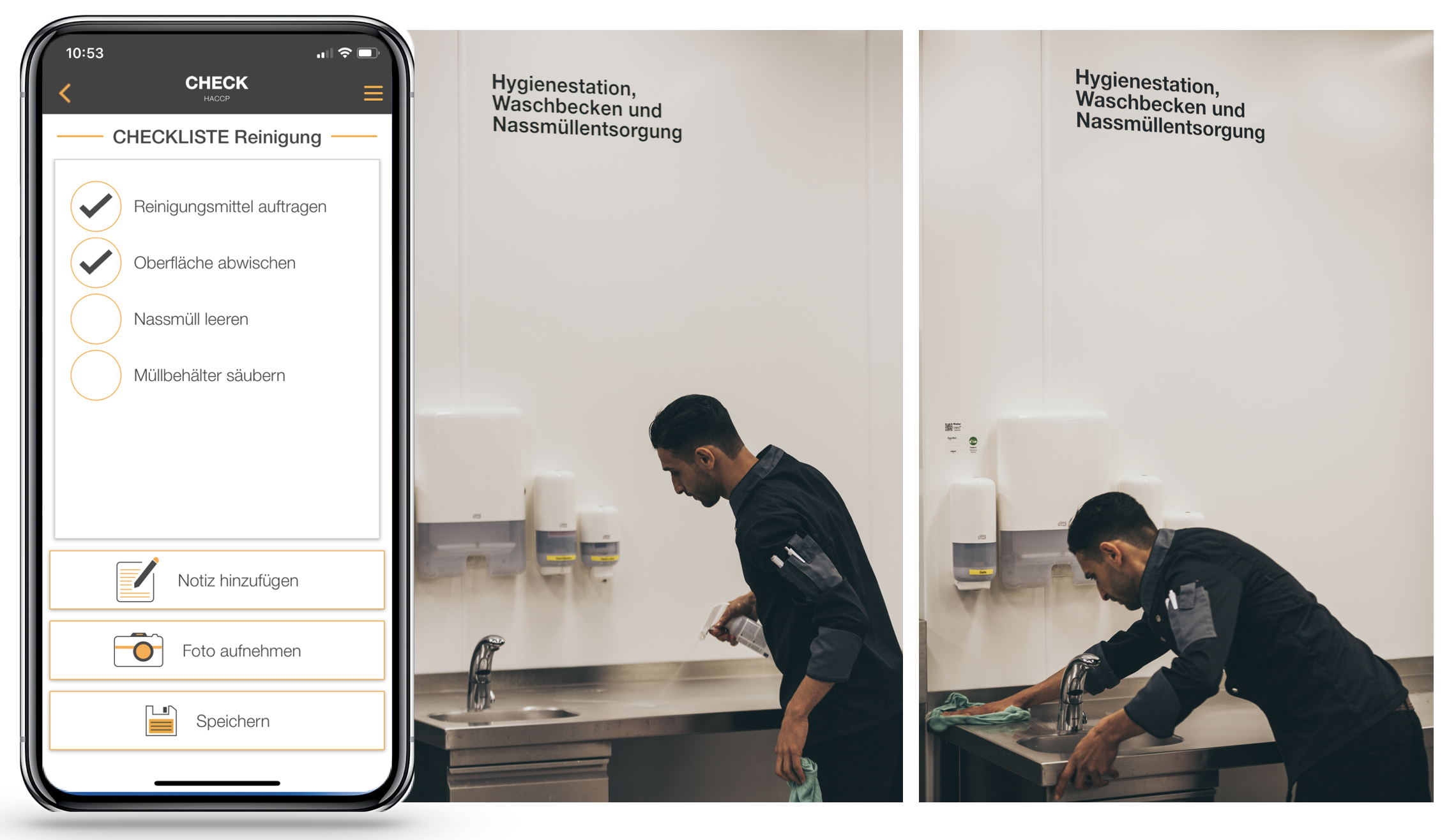 Auto CHECK
Automatic room temperature detection through retrofittable sensors
For Auto CHECK, temperature sensors (dishwasher safe) are permanently mounted in a mobile/stationary device or room. These sensors measure the temperature at configurable intervals and automatically send the measured values to a local gateway, which forwards the data directly to the CHECK CLOUD. As soon as the temperature exceeds or falls below the defined level, the user is immediately informed via the alarm function and can initiate countermeasures at an early stage if necessary. With practical real values through the sleeve on the temperature sensor (time delay).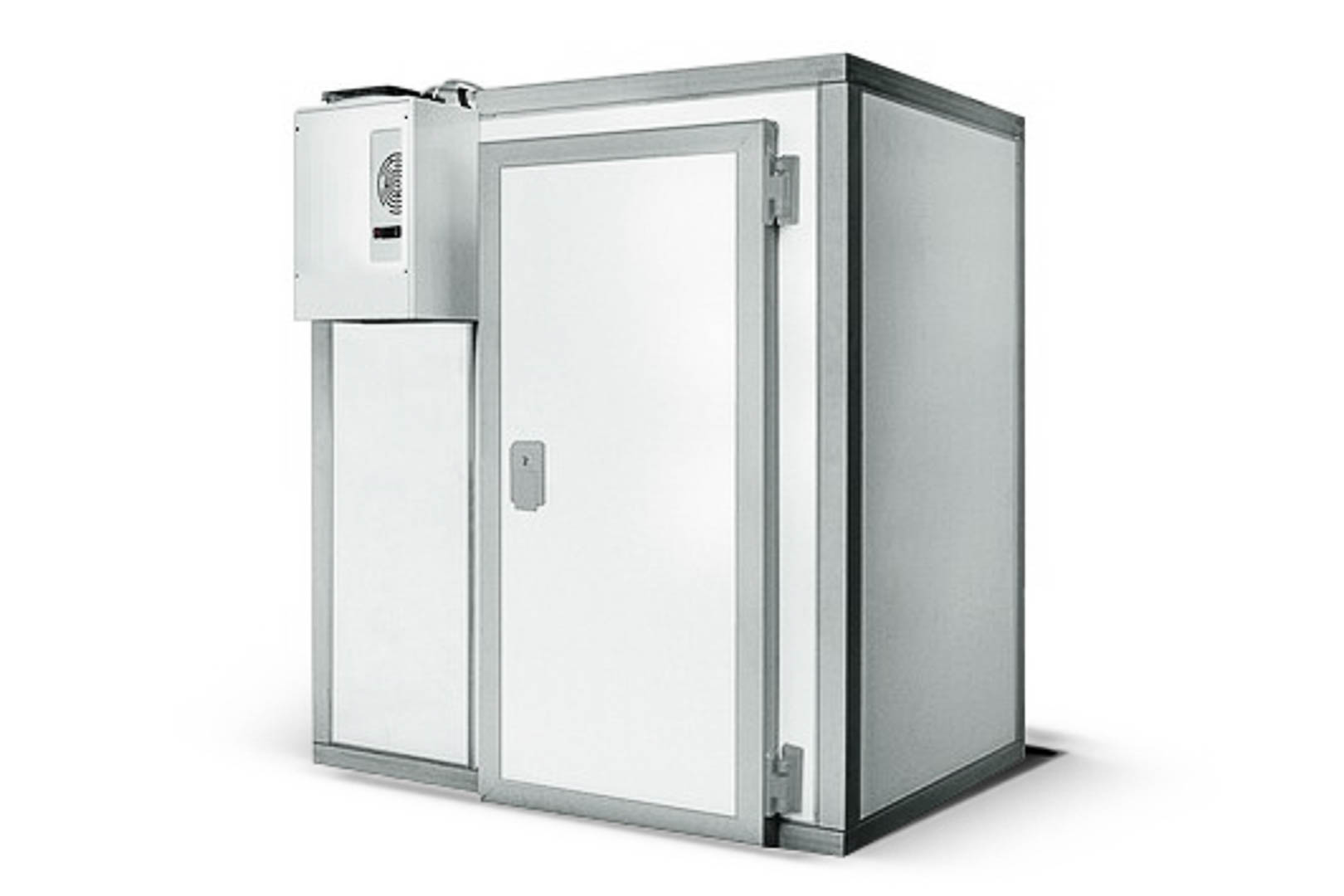 CHECK Cockpit
Everything at a glance.
The browser-based cockpit is used to manage, visualize and evaluate the collected process data. In addition, the configuration of the measuring points and the management of user rights is carried out via the central cockpit. Here, alarms, temperature limits and measuring point types can be stored. In addition to HACCP-compliant documentation, the aggregated data can also be used to create long-term energy and process optimization concepts. The asset and task management is individually created here centrally to match the operational structure.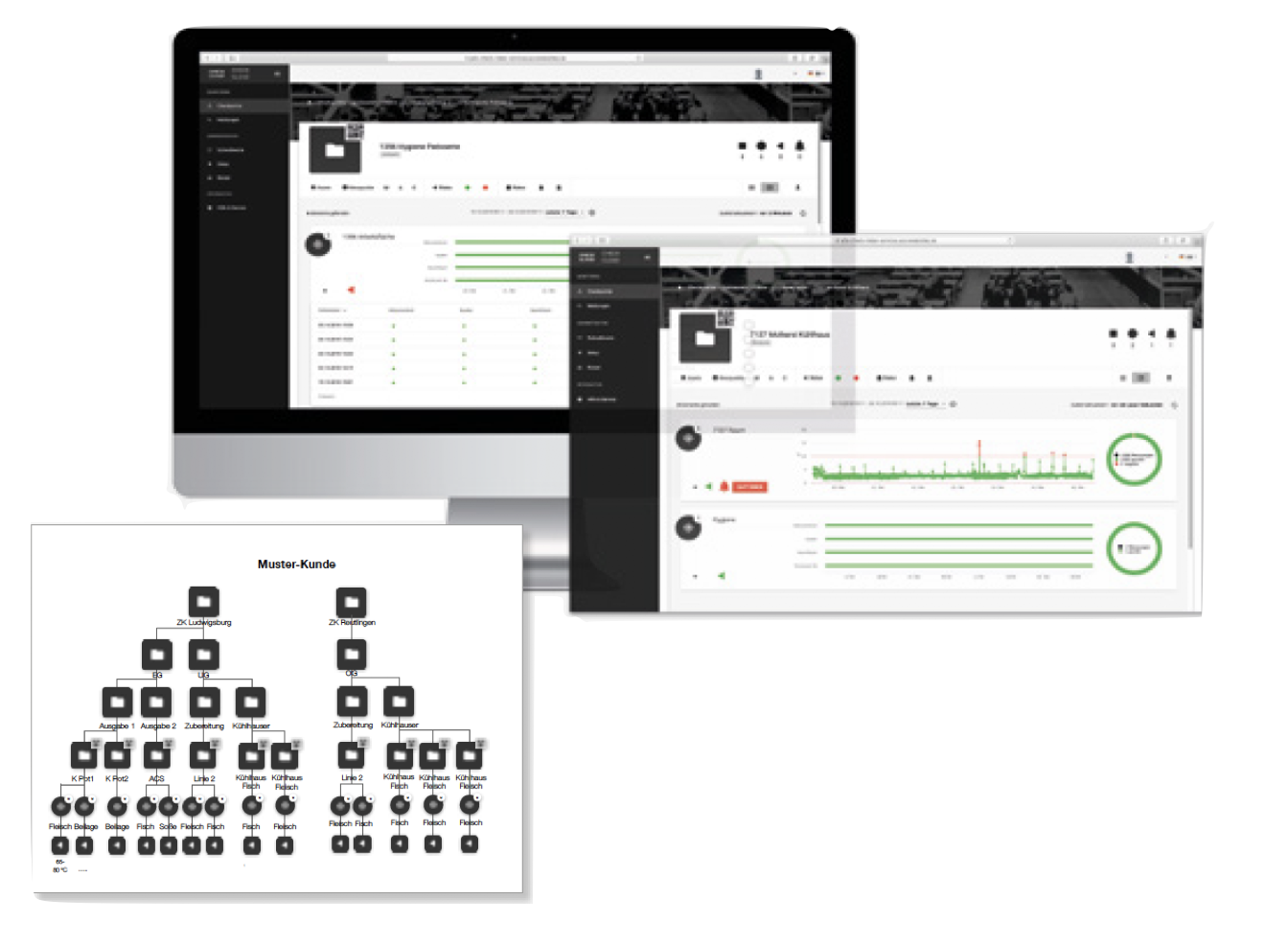 Your advantages in summary.
System - software
Digital, transparent HACCP lists with real-time data

24/7 alarm function

Automatic documentation and archiving without wasting paper

Simple user, rights management and configuration

Retrofittable into existing infrastructure

User-friendly and intuitive application

Reduction of personnel, cost and time expenditure

Uncomplicated info management tool with individually createable checklists

Possible connection to existing merchandise management systems

Patented Digitizing System: DE 10 2013 011 987 B4 2019.06.27 & U.S. Pat. No. 9,996,056
Metrology - hardware
Core temperature sensor
Robust, hygienic, HACCP and EN 13485 compliant

Very fast response time (3 sec.)

Protection class IP66/67

Battery life 1000 h continuous operation

Accuracy +/-0.4 °C to +199 °C

Measuring range -49.9 °C to +299 °C
Room temperature sensor
Can be integrated & retrofitted in stationary as well as mobile devices (manufacturer-independent)

Can also be used offline with integrated data logger (ring memory for 16 T measurements)

Temperature resistant

-40 °C to +85 °C (plastic housing) & internal sensor -40 °C to +125 °C

Dishwasher safe
Food safe
IP 65
Sustainable with replaceable battery
Radio frequency 868 MHz for higher range & outside the busy range (2.4 GHz)
Sensor & gateway communication intelligent and self-organized
With practical real values through the sleeve on the temperature sensor
QR code
Dishwasher safe

Simple, retrofittable food-safe sticker

Temperature resistant -40 °C to +180 °C
Data protection
Hosting and operation of the platform DSGVO-compliant in the EU
Send us an enquiry - we look forward to working together to design the best solution for your business.
HACCP lists no longer 4 years in the confusing paper-folder chaos, but transparent, digitally retrievable at any time. All measuring points and documentation as well as alarms in one web interface.
Organize your operation no matter where you are and always stay informed about your process-relevant data.
Efficient energy management - is your refrigerator constantly 3 °C too cold?
Ask for CHECK HACCP and uncover your savings potential.