Food
Algorithms control the canteen kitchen
State Secretary Friedlinde Gurr-Hirsch visits the Speisewerk in the Urbanharbor - topic: Big Data for more efficiency in the food chain.
Sometimes you just have to talk to each other. This could be the conclusion drawn in the not too distant future by those involved in an appointment at the Ludwigsburg Speisewerk. Friedlinde Gurr-Hirsch, State Secretary in the Ministry for Rural Areas and Consumer Protection, will be finding out about digitalization in the restaurant industry on Wednesday morning. The Ludwigsburg District Office has arranged the appointment, and District Administrator Rainer Haas also wants to talk to entrepreneur Max Maier and his family. The Maier family is transforming derelict industrial sites in the west of Ludwigsburg into modern workplaces on a grand scale, where mobility, building management and digitalization are completely networked. Numerous companies, including large corporations, have set up shop. Many of their employees eat at the Speisewerk during their lunch break. Up to 1,200 meals are prepared there every day, and the Speisewerk also supplies many daycare centers and schools in the region.
Mass feeding is done by algorithm, so to speak. Because a recipe is nothing other than an algorithm, explains entrepreneur Max Maier to his guests. And gastronomic quality is above all the digitalised function of temperature and time in the entire production process of a foodstuff, "the rest is cooking art". Maier wants to ensure quality through regional value chains, but also through more digitalization. His vision: the online platform "Check Cloud", which records all food production processes. "Big Data for more efficiency in commercial kitchens": this is how his group of companies promotes far-reaching digitalization from production to food serving. Networked catering, as in the Speisewerk, is also intended to reduce food waste and energy costs, for example through digitalised temperature control in cold stores. "If all commercial kitchens in Germany were digitized, we could shut down a nuclear power plant," says the entrepreneur.
According to him, a comprehensive digitalization of the gastronomy is only possible if the legislator defines the framework conditions. "We need standards in hygiene or logistics, and for that we need politics", Maier turns to the state secretary. For three years, he has been trying to get in touch with various authorities, but his "Check Cloud" project has not met with the response he had hoped for. The entrepreneur is surprised that the public sector should also welcome advances in digitalization. "If we don't get it right here, how can the administration become digital?
Gurr-Hirsch takes careful note of Maier's complaints and is impressed in view of the value chain in the regional environment. "We will hold a round table," assures the State Secretary. She holds out the prospect of activating relevant players at federal level as well, but warns against too much euphoria. "We have to start in small steps first."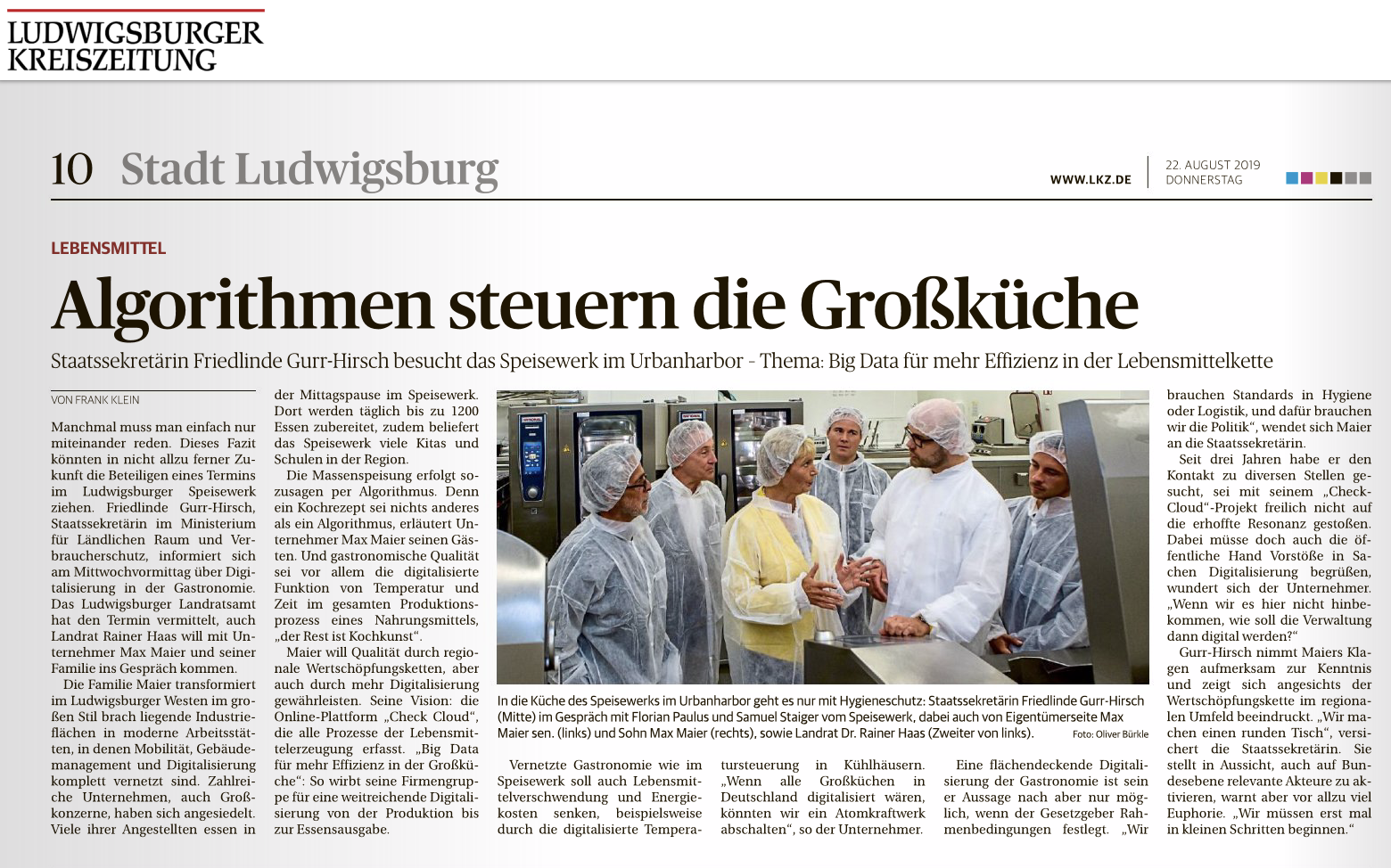 Published August 22, 2019 in LKZ
Author Frank Klein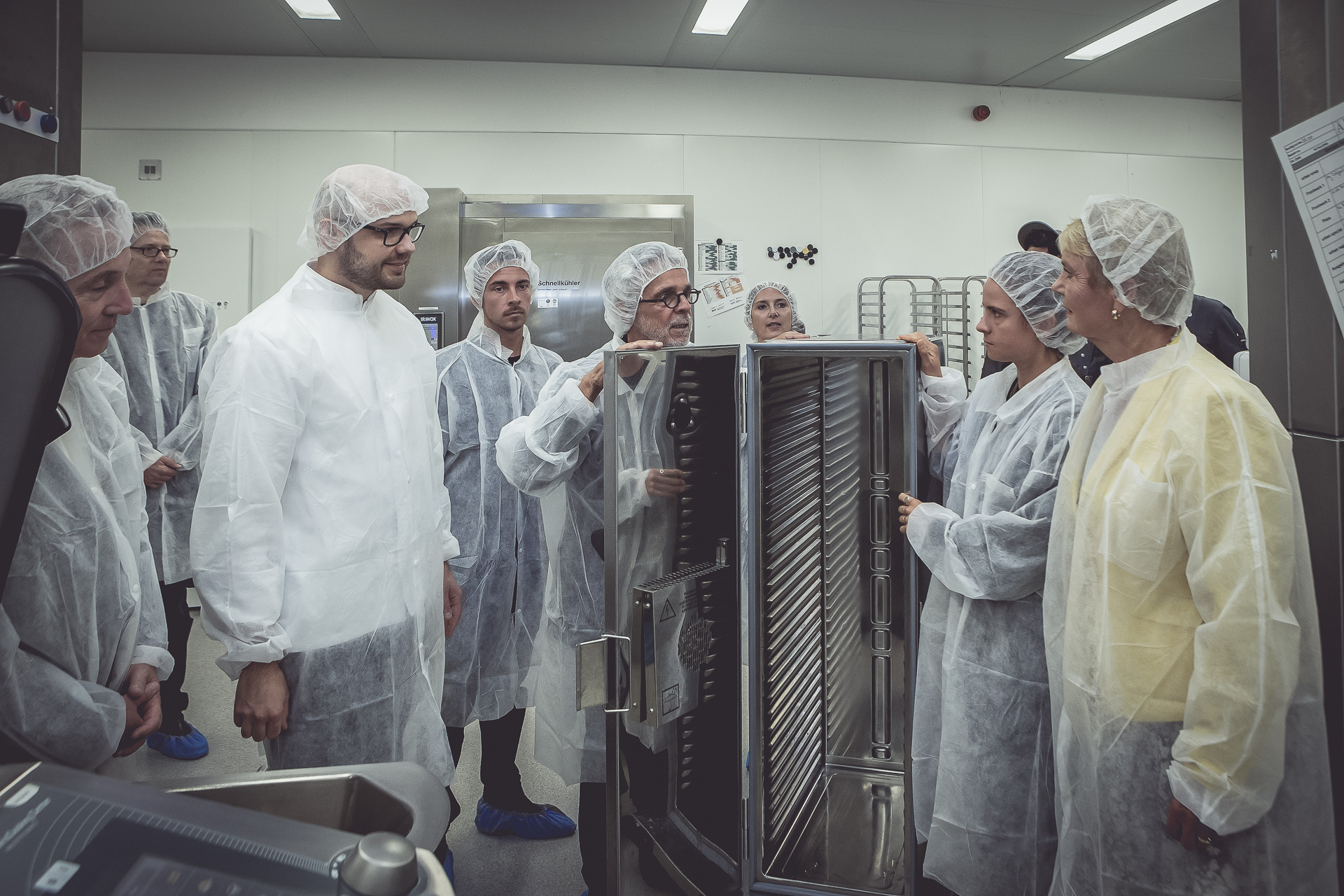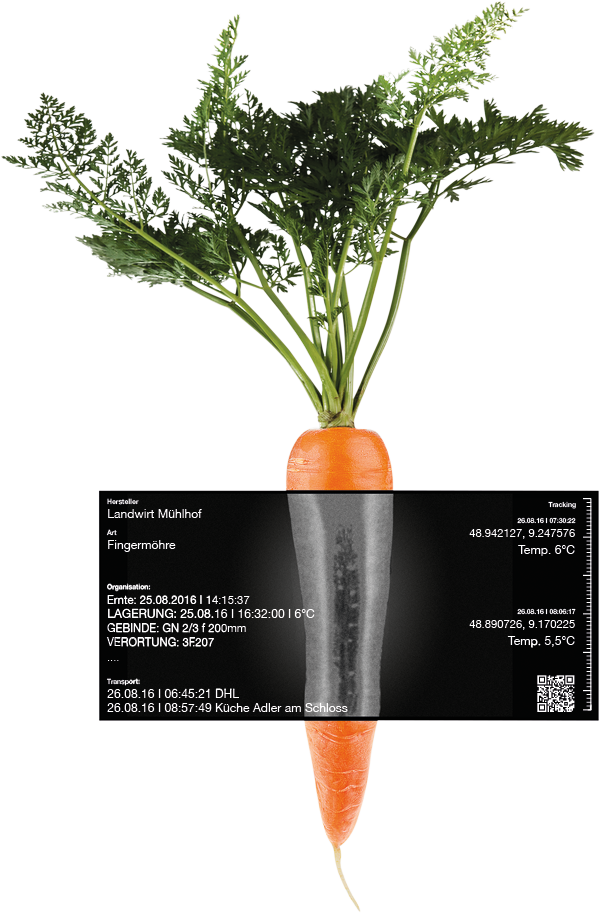 Send us an enquiry - we look forward to working together to design the best solution for your business.
HACCP lists no longer 4 years in the confusing paper-folder chaos, but transparent, digitally retrievable at any time. All measuring points and documentation as well as alarms in one web interface.
Organize your operation no matter where you are and always stay informed about your process-relevant data.
Efficient energy management - is your refrigerator constantly 3 °C too cold?
Ask CHECK HACCP and uncover your savings potential.