CHECK Services: Transparent food chain from the field to the plate
The CHECK CLOUD digitalization and organization system from CHECK Services allows the hygiene and temperature of food and meals to be digitally monitored and documented. This is intended to improve their quality, increase process efficiency and enable the traceability of reusable systems.
The manufacturer-independent platform developed by CHECK Services, T-Systems and other partners allows cold rooms and food transport containers to be equipped with a temperature monitoring system that documents the transport of food under their respective hygienic conditions. Cold rooms and transport boxes are equipped with temperature sensors that automatically send the current temperature data to the CHECK CLOUD Cockpit. In the case of manual measurements with the Bluetooth core temperature sensor, the recorded measured values are sent to the CHECK CLOUD app directly to the smartphone. Using QR codes, transparent traceability can be easily organised along the process chain from storage, preparation, preparation and transport to the serving of the food.
Digital monitoring of legal hygiene regulations
With CHECK MOBILE, restaurateurs can digitally prove compliance with the legally required Hazard Analysis and Critical Control Points (HACCP) monitoring of temperature and hygiene. It replaces the previous paper-based documentation. CHECK MOBILE users can set up the HACCP monitoring points themselves within minutes by assigning QR codes. HACCP-relevant processes such as goods receipt, storage, preparation, transport and serving are thus digitally structured. The temperature and hygiene documentation at these monitoring points can then be carried out within seconds via app by scanning the QR code and assigning temperature measurements via Bluetooth core temperature sensor or by recording hygiene conditions. The documentation itself can be accessed via a central web interface. There, the results are systematically processed, irregularities are highlighted and overall reports are also made available as a print version.
Intelligent food monitoring with
IoT
Further expansion stages of the CHECK product range will include the integration of automatic sensors and the exchange of process-relevant data with equipment manufacturers or ERP systems in the catering sector - as well as the integration of container tracking records in a practical process for setting up reusable cycles. T-Systems itself is responsible for the product implementation, ensuring above all
IT Security
and data protection in a German data center, as well as the communications infrastructure. This means that the data collected by the sensors or with the specially developed app can be securely transferred to the
Cloud
and processed, analyzed and made available there. T-Systems manages this information chain end-to-end and adapts it dynamically so that the food chain data can be linked with other data to form new services in the future. Max Maier's next idea: "We want guests in the canteen to be able to query the ingredients and allergens of every dish via an app and a QR code."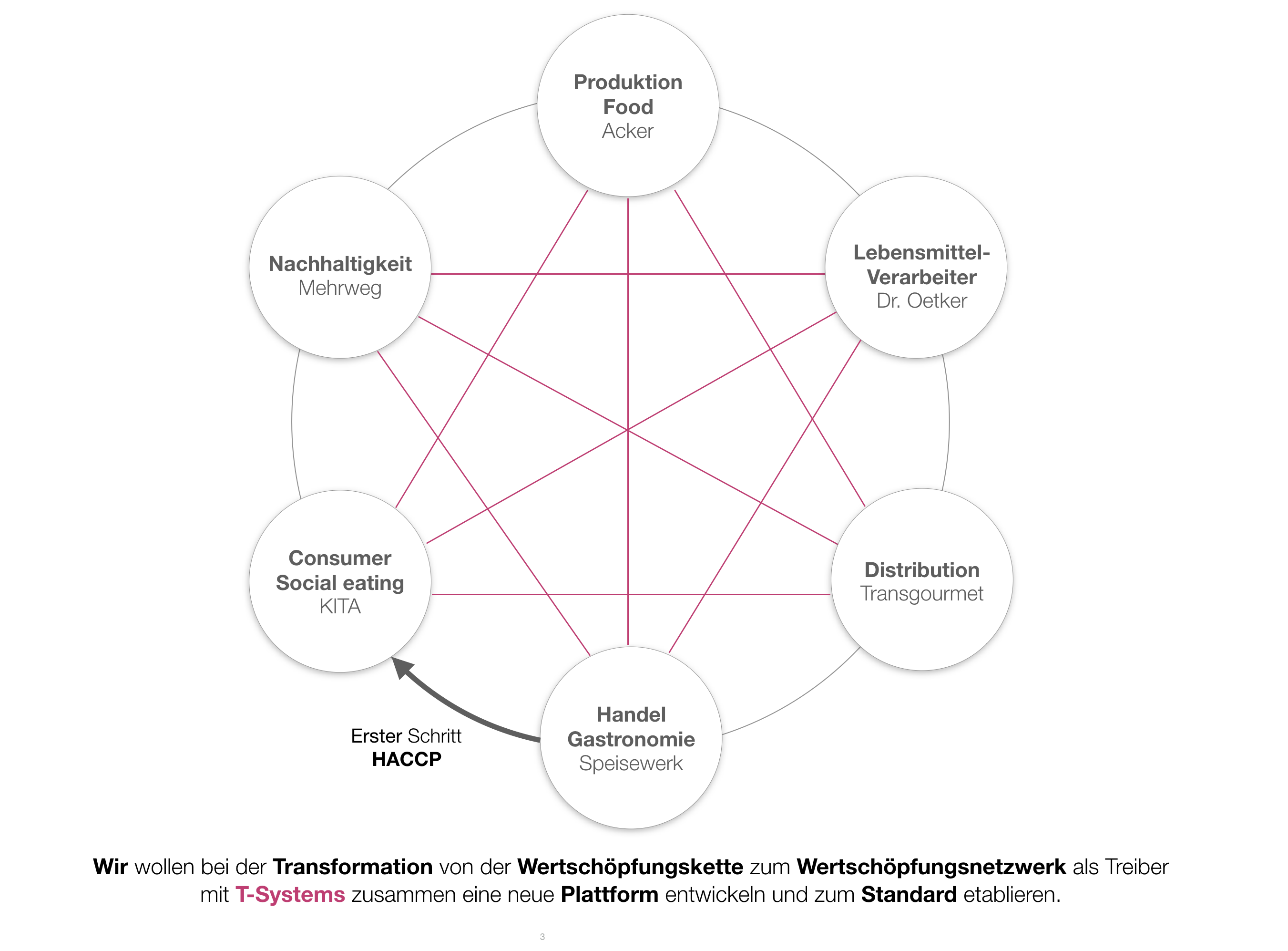 Send us an enquiry - we look forward to working together to design the best solution for your business.
HACCP lists no longer 4 years in the confusing paper-folder chaos, but transparent, digitally retrievable at any time. All measuring points and documentation as well as alarms in one web interface.
Organize your operation no matter where you are and always stay informed about your process-relevant data.
Efficient energy management - is your refrigerator constantly 3 °C too cold?
Ask CHECK HACCP and uncover your savings potential.