Landesklinikum Wiener Neustadt
Our reference hospital, the Landeskrankenhaus Wiener Neustadt, uses our digital CHECK HACCP system as well as various Rieber products in order to map the food distribution safely, transparently and efficiently with a holistic system.
Kitchen manager Johannes Haindl reports on his experiences with Rieber & CHECK the changeover to digital HACCP documentation.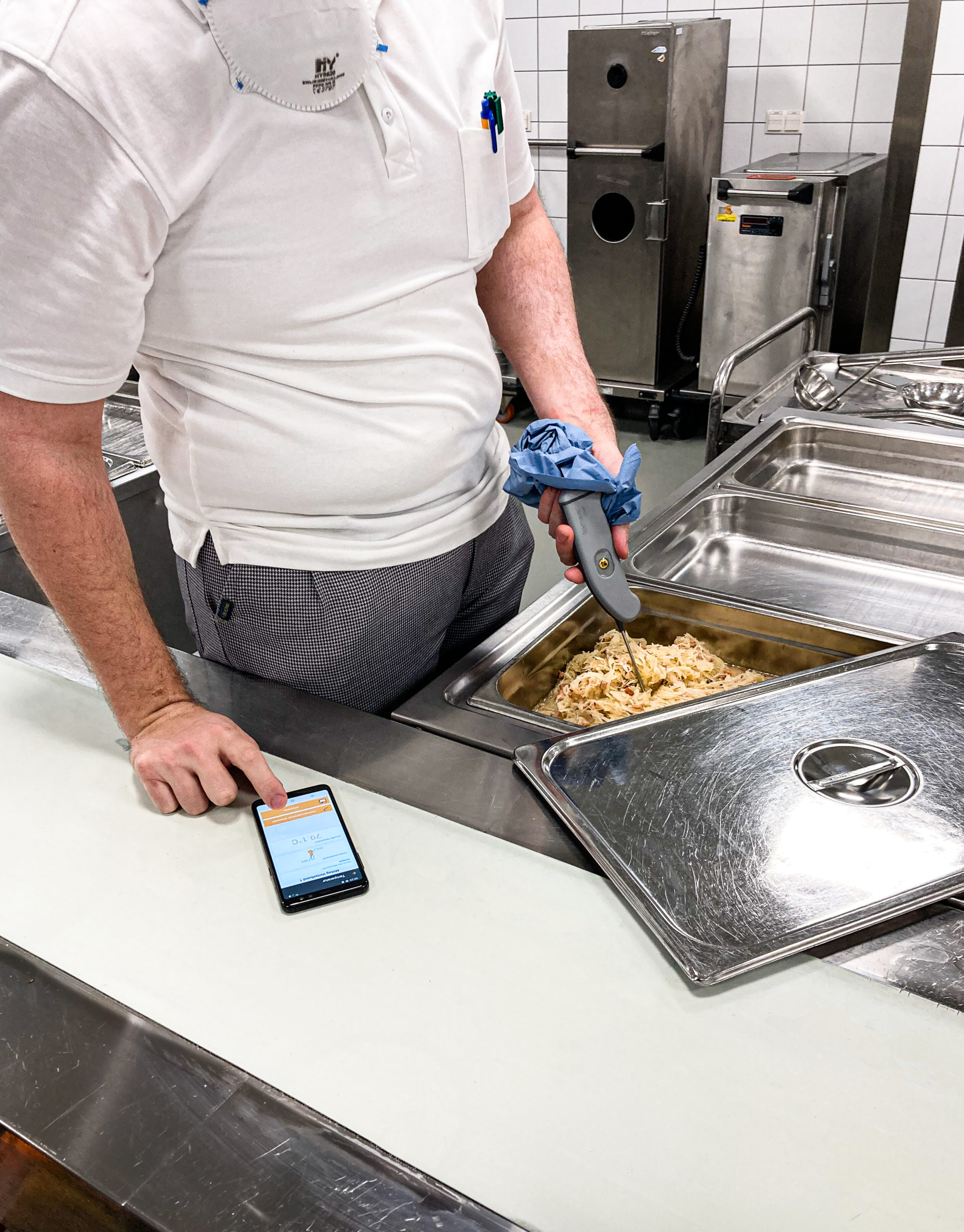 As part of the kitchen refurbishment in 2019/20, all storage and cold storage areas, kitchen areas, dishwashing area, cloakrooms, staff restaurant, Rieber banquet trolleys & thermoporte® and goods receiving, have been digitally retrofitted with our CHECK system - for optimum safety and transparency.
Statement Mr. Johannes Haindl
"Via the QR code on the distribution belt, all menu components are digitally measured daily with the CHECK app and the Bluetooth-capable core temperature sensor. Cleaning is also documented quickly and reliably via the checklists stored on the QR codes. This gives the head chef Johannes Haindl complete transparency and security over the 1,500 freshly produced meals every day. In addition to the digital system, our reliable mobile transport, distribution & serving devices such as thermoport®, tray trolleys, banquet trolleys, feeder trolleys, Gastronorm system are used. With this, the spatial and temporal decoupling of the food can be ensured and, thanks to the subsequently integrable sensors, so can the digital temperature monitoring."
"Through the introduction of the CHECK CLOUD system, our QM and process management has become easier to administer and more accurate. Before the check system we had about 75 hardcopy lists for the control of the HACCP specifications. The link between the mobile phone and the PC is perfect, and this has made it possible to carry out an almost seamless check on the acceptance of goods and the implementation of the cleaning/disinfection plan. Also the complete cold storage and TK monitoring is much more accurate. During internal and external audits, I need much less time to show and hand over the required documents to the auditor. Rieber, especially Mr. Hubert Starkmann, supported us professionally in the joint preliminary work/creation and implementation of this system, which was adapted to our hospital. I can only recommend this functioning system to every large & medium-sized kitchen."
Johannes Haindl
Kitchen Manager
Kitchen - Main plan
Interested in the Rieber food distribution system?
more infos
The advantages at a glance
System:
Digital, transparent HACCP lists with real-time data
24/7 alarm function
Simple user, rights management and configuration
Retrofittable into existing infrastructure
User-friendly and intuitive application
Reduction of personnel, cost and time expenditure
Uncomplicated info management tool with individually createable checklists
Possible connection to existing merchandise management systems
Automatic documentation and archiving without wasting paper
Patented digitizing system: U.S. Pat. No. 9,996,056
Hosting and operation of the platform DSGVO-compliant in the EU
Core temperature probe:
Robust, hygienic, HACCP and EN 13485 compliant
Very fast response time (3 sec.)
Protection class IP66/67
Typical battery life 1000 h continuous operation
Accuracy +/-0.4 °C to +199 °C
Measuring range -49.9 °C to +299 °C
QR Code:
Dishwasher safe
Simple, retrofittable food-safe sticker
Temperature resistant -40 °C to +180 °C
Send us an enquiry - we look forward to working together to design the best solution for your business.
HACCP lists no longer 4 years in the confusing paper-folder chaos, but transparent, digitally retrievable at any time. All measuring points and documentation as well as alarms in one web interface.
Organize your operation no matter where you are and always stay informed about your process-relevant data.
Efficient energy management - is your refrigerator constantly 3 °C too cold?
Ask CHECK HACCP and uncover your savings potential.